Bitcoin is a digital asset that's gained a lot of popularity in the last few years. One place where it's particularly popular is Nigeria.
This is partly because of Nigeria's weak banking system, which fails to provide an adequate number of banks and ATMs. It's also because the national currency – the Naira – has been historically unstable.
For many Nigerians, Bitcoin is a much better way to store value, transfer money, and even shop online. The question is, how can you buy Bitcoin inside the country?
Below, we'll explain why acquiring the cryptocurrency with Google Play gift cards may be wisest – and recommend the best place to do so quickly and safely.
Top 3 ways to buy Bitcoin
There are 3 main ways to buy cryptocurrencies of all kinds, Bitcoin included. These are:
Direct purchases using cash.

In this scenario, you buy your Bitcoin from a company or individual directly. This usually means paying a premium – but is easy, fast, and reliable. Most Nigerians can't buy Bitcoin this way because popular payment services like PayPal are unavailable in the country.

Direct purchases using other cryptocurrencies

. Another common way to buy Bitcoin is using other, "lesser" tokens – e.g. Ripple, Ether, etc. The problem with this method is that it assumes you already know how to use crypto and own some token or another – which is nott the case for many Nigerians who are new to the technology.

OTC trades via any convenient payment method.

In this scenario, instead of buying from a centralized website, service, or platform, users interact with each other in a marketplace format, negotiating a convenient way to transfer funds.
For most if not all Nigerians, OTC trades via a trusted marketplace are the optimal choice.
This is because many Nigerians don't have access to PayPal, AliPay, etc. With an OTC Bitcoin trading platform like CoinCola, it's possible to buy Bitcoin and other tokens via freely available methods like Google Play gift cards.
CoinCola's Gift Card Trading Zone
CoinCola is one of the world's top OTC marketplaces. It processes over 100,000 monthly transactions; In addition to our regular features, check out their peer to peer Gift Card Trading Zone . Note: trading Fees are about 40%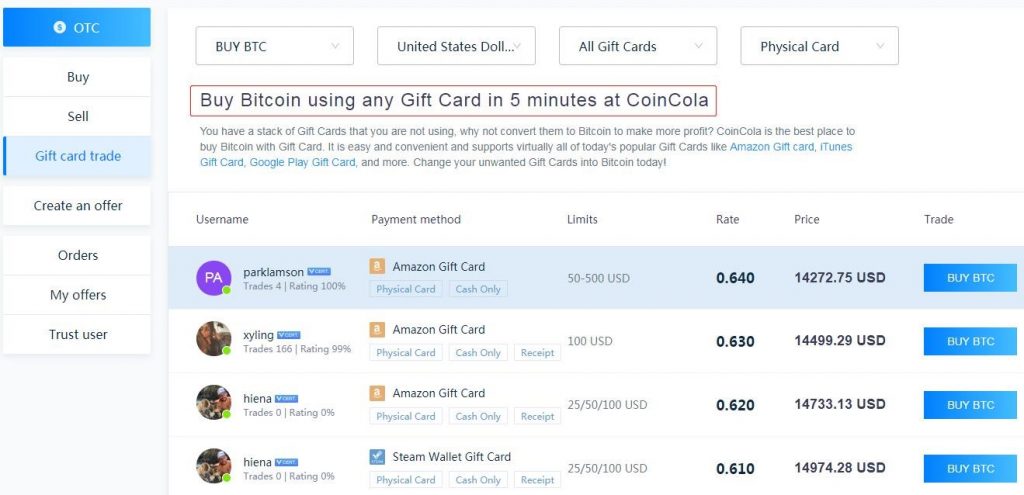 Steps to Trade Google Play Gift Card
1. Choose a buyer that has listed Google play
2. Check for the buyer's ratings, to ascertain credibility, the ratings are in %, (it is safer to ddeal with a 99-100% rated buyer)
3. Follow the procedure listed below the buyer's profile